Alere Smuckers Site Improvements Completed in San Bernardino, CA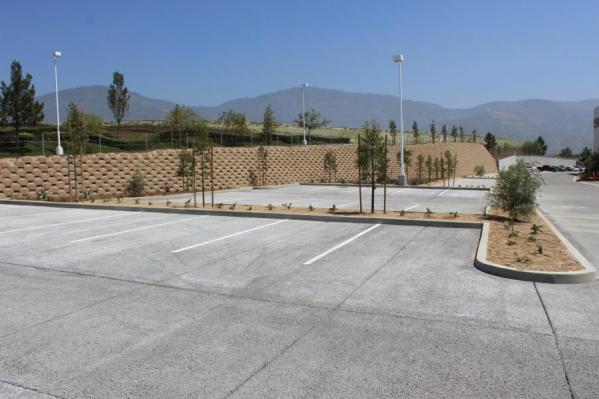 Fullmer recently completed a unique project in San Bernardino, CA. Located just off the 215 freeway, the project consisted primarily of constructing a specialized concrete wall and Verdura retaining wall system for Smucker's regional distribution facility.
Complete site improvements began with widening the shipping & receiving drive by 15 feet, enhancing the capacity of semi traffic able to be accommodated at one time. The drive leads down to the guard shack, which was relocated and given new electronics for the gate control system. Situated beyond the guard shack is the employee parking lot, which was expanded by 20 feet and redone with pervious pavement, allowing any built-up rain water to soak in and drain instead of running through the lot. The two walls sit next to this lot, built to separate the overlooking drive and landscape bank from the lot below.
The specialized concrete wall is a zero cut soldier pile wall, constructed without digging into the bank behind it. A 5 foot water line under 200 pounds of pressure sits behind it at its base, located 10 feet back from the wall. The Verdura retaining wall system is situated directly next to the concrete wall, adding an aesthetic appeal to the lot and built with concrete blocks and fabric extending 20 feet into the compacted road behind it.
Other improvements included fresh landscaping around much of the site, ADA parking and ramp leading from the street to the parking lot, as well as converting a previous truck court entrance to a new section of screen wall.
Finally, Fullmer removed 68 feet of sidewalk with no charge to the client when the drive approach became too narrow for incoming truck traffic; this enabled truck access to remain accessible during the entirety of the project. A departure from the projects we typically work on, we relished the opportunity to be a part of this unique job, and are extremely satisfied with the finished product.