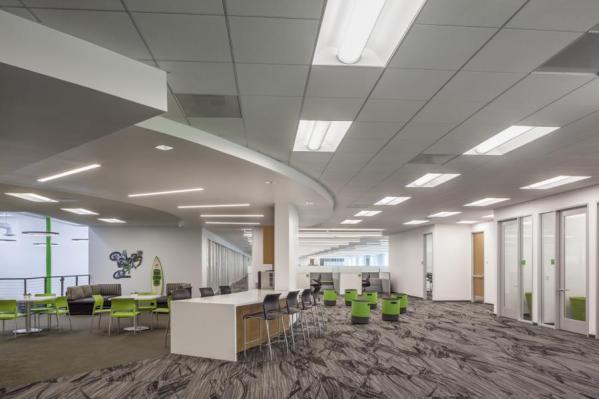 Fullmer Construction completed tenant improvements to the new corporate headquarters of motorsports products powerhouse Kawasaki Motors. Located in Foothill Ranch, CA, the facility underwent a full scale building rehab, transforming from the outdated former offices of Wet Seal (originally built by Fullmer in 1997) into an impressive and modernized new space.
It was important to Kawasaki that their new headquarters be an environment which could uniquely exemplify their exhilarating brand and culture. Fullmer was chosen as general contractor because Kawasaki was confident in our abilities to not only handle the numerous complexities that accompanied this project, but also to meet the tight project timeline. The project schedule was a rapid three months, as Kawasaki had to be out of their old building and into their new headquarters by a firm, specific date, and Fullmer was able to meet that goal.
The 213,216 square foot facility now features a mix of corporate offices, a new Dyno building providing enhanced research and development space, tech training shops and classrooms, a large warehouse and ample parking. A stunning lobby complete with hanging motorcycle and unique artwork opens into an impressive main floor that includes a full product showroom, museum display, fitness center, yoga studio and spacious employee cafeteria. Offices occupy much of the second floor, which was heavily modified from the previous setup to allow for a more open feel with enhanced natural light. Upscale finishes and accents span throughout the building, with the trademark Kawasaki bright fluorescent lime green color uniquely accompanying the primary concrete and wood décor.
The exterior is anchored by a fully redeveloped corner entrance, wrapped in glass and lit by the Kawasaki logo and accompanying fluorescent green lighting at night. The project went on to win a Spire Award from CREW Orange County for the 2016 Superior Tenant Improvement Project.