Kerlan-Jobe Orthopaedic Clinic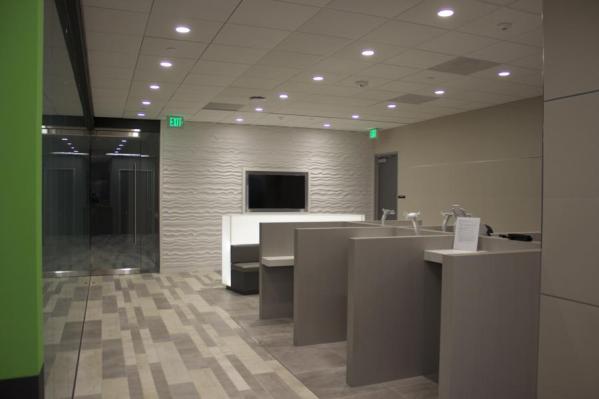 Fullmer completed a unique state-of-the-art tenant improvement to the 6,290 square foot offices of Kerlan-Jobe Orthopaedic Clinic in Los Angeles, CA. A Cedars-Sinai affiliate, Kerlan-Jobe boasts a long history as one of the pioneers of sports medicine in Southern California. Their Los Angeles office is located just off the 405 freeway near LAX, and directly serves the Los Angeles Rams football team; the firm also serves as either team physician or consultants to virtually all of Southern California's professional teams, including the Lakers, Dodgers, Kings, Ducks and Sparks.
The building in which the office space is located was originally constructed back in 1997. Fullmer was honored to be chosen as the general contractor for such a prominent member of the Southern California medical and sports communities. The scope of work consisted of remodeling their entire 2nd floor office space, including new finishes, many high-end upgrades and millwork. The space opens with a check-in area complete with education kiosks and a couch backed with a unique LED-lit barrier. Further back is a nurse's station and three exam rooms complete with the latest technology. Proceeding down the main hallway, you'll encounter a biofeedback and neurofeedback room with adjacent control room, lounge area, IT room, private office and psychologist's patient office, electro diagnostic laboratory, three additional exam rooms and a large conference room.
At the other corner of the check-in area is the entrance to perhaps the most impressive area of the project, the sports assessment and rehabilitation space. This area provides the space for athletes and other patients to perform a plethora of rehabilitative activities. Four flat screen televisions, field turf, a treadmill and exercise bike are just a few of the amenities installed. The most unique part is the "smart glass" installed along much of the room, which separates the rehab space from the check-in area and can be manipulated by the flick of a switch to instantly become completely frosted, unable to be looked through, and then go back to clear. Also located within this space is the therapist's office, as well as the corner office of Dr. Vernon Williams, the founding director of the Sports Neurology Fellowship at Kerlan-Jobe and consulting Team Physician to the local sports teams highlighted above.
High-end patterned tiling adorns much of the flooring throughout, and bright green accents along with ample glass and motion-activated LED lighting completes the space. Fullmer is proud that even though this was a very involved project, the completion deadline was still able to be met. We believe Kerlan-Jobe will be extremely happy with their new Los Angeles headquarters.