OMP Alondra Business Center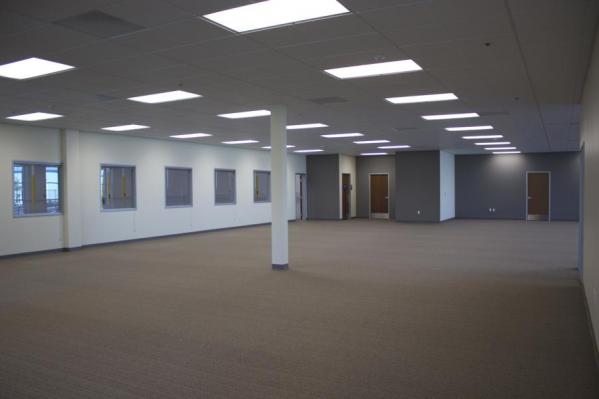 Fullmer completed the OMP Alondra Business Center, a 199,588 square foot state-of-the-art distribution center located in La Mirada, CA. Ideally situated just off the 5 freeway with nearby access to the airport and ports, this concrete tilt-up industrial facility also features an 11,537 square foot two story office with high-end finishes and upgrades.
The street facing corner office entrance is wrapped in beautiful glass which reaches nearly to the top of the building. The first floor features an inviting lobby with winding staircase wrapped in glass and steel. A large open work area, three private offices, spacious conference room, restrooms and a break room complete the bottom level. The second floor is comprised of a large open work space, surrounded by floor-to-ceiling windows on one side, and windows overlooking the warehouse below on the other.
The warehouse includes 35 dock high doors, two grade level doors, 32' clear ceilings, 2.5% skylights, ESFR sprinkler system, single-occupant restrooms and electric pump house in lieu of the typical diesel. The fully secured truck courts are made up of 100% concrete, and the facility is divisible with key points of access on both sides, as well as the capability for future office space on the corner opposite the existing space. A key feature is the state-of-the-art lighting system; all LED and motion-activated through the entire building, a Cat 5 line extends to each fixture throughout the facility, enabling the lights to be manipulated remotely. Substantial power at 1,000 amps with 3,000 UGPS gives the building ample capabilities, and a vapor barrier was installed underneath the entire structure for methane monitoring.
Site improvements include 144 auto parking spaces, 11 of which are clean air/vanpool vehicle stalls, and plenty of truck parking. A large bio retention basin was installed on the North side of the site; this structure is load bearing up against the North parking lot, which caused the need for Fullmer to also install a large underground retaining wall against the lot. Finally, 43,799 square feet of fresh landscaping completes the site.