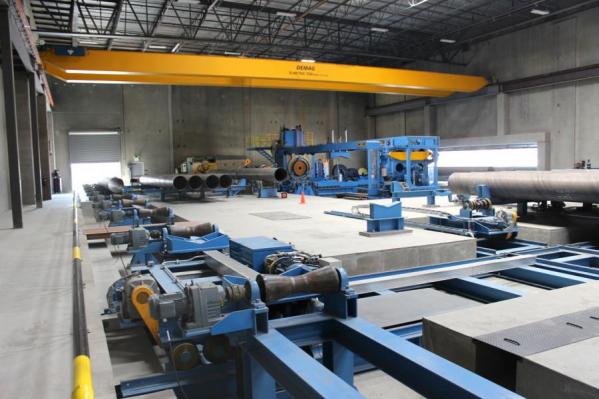 Fullmer completed a new 43,357 square foot state-of-the-art manufacturing facility for State Pipe and Supply in Rialto, CA. Situated just off the 210 freeway with excellent visibility from the eastbound lanes, the building houses the extensive operations of West Coast Spiral Pipe, State Pipe's fabrication and coating division where steel water pipeline systems are manufactured for municipalities, water districts and other public and private agencies. The plant is capable of producing pipe from 16" to 120" in diameter.
The facility includes nearly 4,000 square feet in tenant improvements adjacent to the operations area; the modern office space includes three executive offices, conference room, accounting office, sales and engineering work area, computer room, two employee break rooms and a large laboratory for quality control testing and reports. Inside the manufacturing area, features include 32' clear height, two roll-up doors and a vast array of intricate machinery. The clear span roof structure allowing the 32 ton and 10 ton cranes to travel the full length of the building, and the floor has various levels, pits and trenches to accommodate the large machinery and extensive electrical and control wiring. The process takes rolls of steel and runs them through a mill machine which bends it in to a spiral cylinder and welds it inside and out. Other processes include machines for finishing the ends, hydro-testing, and a detailing and repair area.
The offsite portion of the project included beautiful landscaping lining the property along the architectural site walls that border the facility. Extensive street and utility improvements were done along Casmalia Street and Locust Avenues, further improving a quickly developing section of the Inland Empire's 210 industrial corridor.