Tenant Improvement for South County Kidney & Endocrine Center Completed in Laguna Hills, CA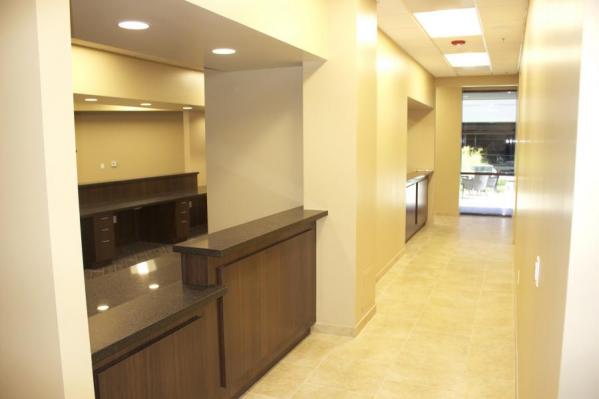 Fullmer has completed a state-of-the-art tenant improvement for the South County Kidney and Endocrine Center in Laguna Hills, CA. Conveniently located just off the 5 freeway, the new 8,623 square foot medical office offers a very modern and clean feel. A spacious reception and waiting area welcomes patients, which includes granite countertops, stone walls and beautiful wood flooring. Other features include a phlebotomy room, dental room, numerous patient exam rooms, nurse's station, executive doctor's office with a restroom complete with a shower, and even a small café.
The space is well-lit throughout, with energy-saving motion-activated lighting installed in each room, as well as plenty of windows to let the natural light in along with the lush green landscape that surrounds much of the building. Both tile and wood flooring stretches through the office, adding to the aesthetic appeal and clean feel. An intricate security system is also included, with numerous cameras installed throughout.
Fullmer is proud of this project; we hope it will be a great new home for SCKE, and provide a pleasant experience for their patients.