Wolverine Distribution Center Completed in Beaumont, CA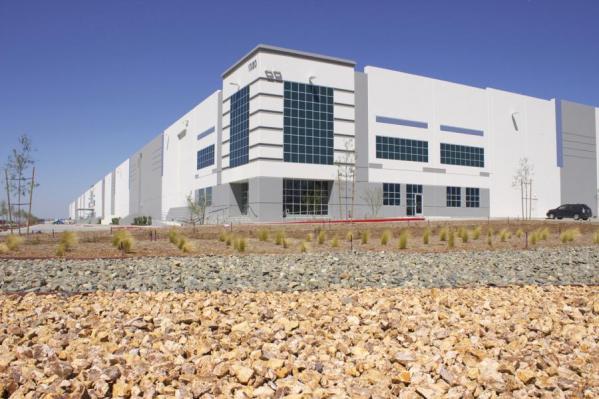 Fullmer recently completed the new 720,000 square foot build-to-suit Wolverine Distribution Center in Beaumont, CA. Positioned with exceptional visibility off the 60 freeway, the facility serves as the new West Coast distribution hub for Wolverine Worldwide, a global distributor of major footwear brands including the trademark Wolverine work boots.
Situated on a 39 acre parcel, the state-of-the art facility offers vast warehouse space with the latest technology and boundless capabilities, as well as more than 16,000 square feet of office space. Located in three different areas of the building, tenant improvements include the main employee entrance adjacent to the primary parking area, a logistics office and shipping/receiving office. The employee entrance features a security office, locker room, and spacious break room that leads to an outdoor patio with covered trellis; the logistics office offers open work areas, numerous conference rooms and private offices, director's office, FM200 network room, private lactation room and a second employee breakroom with trellised outdoor patio.
The immense 704,000 square foot warehouse features a 7" Ductilcrete slab that reduces the relief joints and provides a very smooth and flat surface. Other features include 40' clear height, ESFR sprinklers, 56' x 60' column spacing, 3% skylights, 66 dock doors, 4 grade level doors, 155 trailer parking stalls, and full security fencing with electronic gates around much of the site for secured shipping and receiving.
Site improvements include beautiful landscaping on all sides of the building; abundant parking offers 360 standard spaces and 32 clean air/van pool spots. Street work and related site work has already been completed.
Fullmer navigated numerous weather delays and tightly coordinated scheduling to successfully deliver this complex project with a very early final completion. Developed with McDonald Property Group, the building is the first of a three-building master planned project known as Crossroads Logistics Center. Wolverine has the opportunity to double the size of their facility within the next couple years, utilizing the parcel directly adjacent to potentially bring their footprint to 1.5 million square feet. The other two buildings would stand at 272,000 and 1,000,000 square feet. With a key location near multiple freeways and only 85 miles from the ports, 24/7 operational capability with no residential interference, as well as already being fully entitled, the Wolverine Distribution Center and its future neighbors are positioned to be a brilliant addition to the area's distribution capabilities.